Journals
The Japanese Society of Applied Entomology and Zoology publishes two quarterly journals, Japanese and English, in February, May, August and November, and these journals present reviews and original papers. Both journals are indexed in the Current Contents (R) and cited in ISI's Science Citation Index.
Applied Entomology and Zoology (in English)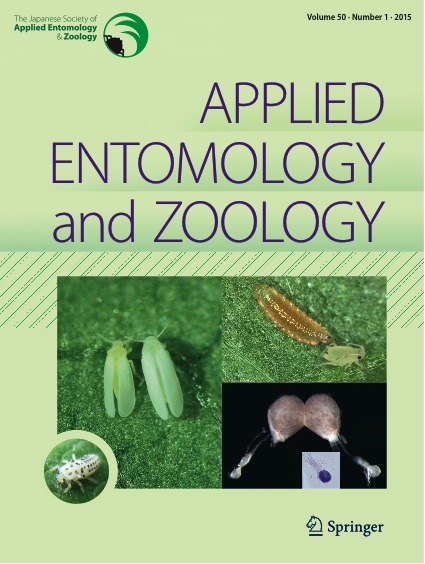 Applied Entomology and Zoology is an English journal that releases the latest research concerned with all aspects of applied entomology and zoology including agriculture, and publishes approximately 100 papers a year. It contributes to promotion of not only domestic but also global scientific exchange, and is regarded as the leading scientific journal in Asian. The journal covers a wide range of fields, such as the molecular biology, environmental science, physiology, ecology, ethology, taxonomy and toxicology dealing with insect pests, animal pests, natural enemies, beneficial insects, beneficial animals, agricultural chemicals, etc., and contributes to environmental conservation and food production.
It has been published by Springer since 2011. The JSAEZ members can access full-texts and download PDFs of all AEZ articles published by Springer for free from the Members Only site (https://service.dynacom.jp/odokon/member/index_e.html).
ISSN: 0003-6862
» Springer

» PDF(J-STAGE)
» PDF(CiNii)
» Instructions for Authors
» Table of Contents
Japanese Journal of Applied Entomology and Zoology (text in Japanese, abstract in English)
Nihon Oyo Dobutsu Konchu Gakkaishi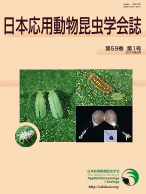 The Japanese Journal of Applied Entomology and Zoology has the abbreviated Japanese name, "ODOKON", and publishes papers on fundamental and applied research, reviews of research and book reviews in order to promote and spread information from the extensive fields related to applied entomology and zoology. This journal publishes contributions of research on entomology and zoology concerning agriculture, medicine, ecology, etc., and bears a leading role to publish pioneering works in these fields. The contributors belong to universities, independent administrative agencies, public institutions, private enterprises, etc., and the contents of papers have a diverse and varied range.
ISSN: 0021-4914
» PDF(J-STAGE)
» PDF(CiNii)
» Instructions for Authors (in Japanese)
» Table of Contents

» Home